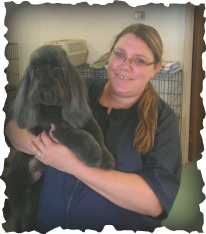 Suzanne, the owner and groomer at Claws & Paws has over 20 years experience serving the pets of San Antonio. We are dedicated to offering high quality, professional grooming services at fair and affordable prices. We take our business very seriously and are vigilant about keeping your pet safe and comfortable at all times. We welcome you to bring anything within reason that you feel will make your pets stay here more comfortable. This could include your pets favorite toy, bed, treats, etc.

Grooming should begin very early in your pets life, preferably by 12 weeks of age. Beginning early will allow your pet to become more easily accustomed to the grooming process and will be less stressed than if you wait until your pet is older.


We ask that you please refrain from giving your pet a large amount of water or meals in the morning before grooming so that they don't accidently potty their cage causing your pet to be less comfortable and having to spend a longer amount of time at our salon.

Please let us know upon checking in if your pet has any health conditions or concerns that we should be aware of and if your pet is taking any medications. All pets should be up to date on their rabies shots and second set of boosters before being groomed. It is also recommended to obtain a bordetella vaccine if your pet frequents pet grooming establishments, boarding facilities, dog parks, vet clinics etc.




---